How much does SubStack cost? All your Frequently Asked Questions on SubStack Costs
Here are the most frequently asked questions we have received from users about SubStack cost and pricing.
SubStack, the newsletter platform allows individual writers, editors, and curators to publish content and get paid for their work.
Here are the most frequently asked questions we have received from users about SubStack cost and pricing.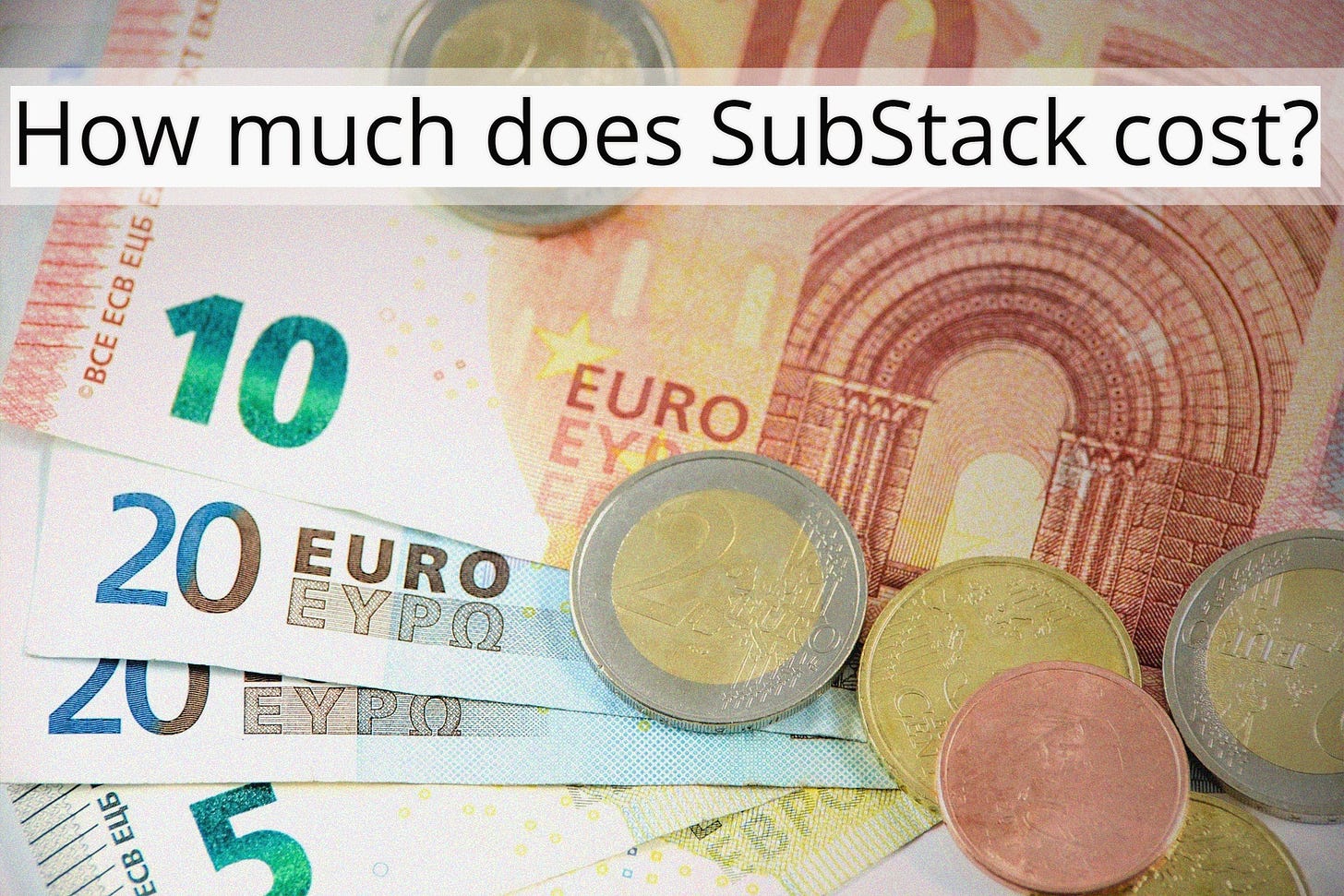 1.       How is SubStack priced?
Publishers:
If you publish a free newsletter, SubStack is free. It does not cost you anything and the price is zero even if you scale to thousands of subscribers.
If your newsletter is priced, the SubStack charges you 10% of newsletter's price. For example, if you charge $5 per month, then SubStack will take $0.50 or 50 cents every month. If you charge $100 annually for your email newsletter via SubStack, they will charge you $10 for a year.
SubStack uses Stripe for payment processing. Stripe charges you an additional 2.9% of your billing rate, plus 30 cents per transaction. So, if you charge $5 per month, expect to pay about $0.44 or 44 cents each month to Stripe. If you charge $100 annually for your SubStack newsletter, Stripe fees will be $3.2.
Your net payout if you charge $5 per month, per subscriber will be $4.05 and if you charge $100 annually, will be $86.8 per subscriber.
Subscribers:
If you subscribe to a free newsletter you pay nothing. It does not cost you anything and the price is zero even if you subscribe to thousands of free newsletters.
If you subscribe to a paid newsletter, the pricing varies by newsletter (which is set by the publisher). We have seen prices from $2 per month to over $200 annual.
2.       When will I get paid for my SubStack newsletter subscribers?
Since SubStack uses Stripe, it varies based on the location. Once you setup your Stripe account, it will ask you to "link" to your bank account. Your first payout from Stripe will take 7-14 days (to establish the account). After that, expect to get paid between 2 days (US and Australia), to 7 business days (India), 7 calendar days (most countries), or 30 calendar days (Brazil), and Weekly (Japan). For a full list of payout dates, you can view Stripe's schedule.
Payout dates will get longer if you get a lot of subscribers who request a refund because they are no longer interested in your content or they subscribed by mistake. If you have more than 2% chargebacks or disputes in each period (month), you might be subject to a Stripe withholding or reserved funds for up to 90 days or longer.
3.       Can I use another payment provider besides Stripe with SubStack?
SubStack does not support any other payment option currently (Aug 2020) Stripe is the sole payment processor for SubStack.
4.       If Stripe does not support payments in my country what can I do to get paid for my SubStack newsletter?
A few subscribers have used PayPal, Buy Me A Coffee or Instamojo, but these are not "integrated" with SubStack, so you will have to setup a separate payment option to get paid for your newsletter. The problem is you cannot seamlessly integrate paid content with free content into SubStack. If you don't use Stripe, or if Stripe does not support your region or country, you are out of luck.
5.       How much does SubStack cost?
For the newsletter publisher, SubStack is of no cost if your newsletter is free an as explained before 10% of your fee if you charge for your newsletter, plus payment frees.
Newsletter subscribers do not pay for free SubStack newsletters. For paid newsletters, they will pay the monthly or annual fee.
The other option that SubStack offers is an Everything bundle. Subscribers pay from $20 to $200 annually depending on the newsletters they choose. It is a very convenient way for subscribers to get multiple perspectives for one price. Publishers benefit as well by getting their content paid for as part of a bundled offering.
6.       How much does it cost to map your domain to SubStack?
If you have a domain that you own (e.g. https://www.yirla.com), then you can point your custom domain to your SubStack URL (https://yirla.substack.com) and there is no charge.
SubStack does not offer custom domains.
7.       How much should I price my SubStack newsletter?
Pricing your newsletter is long topic with its own set of frequently asked questions. For the purposes of this post, we will give you 3 pointers.
First, you can price your newsletter at whatever amount you choose.
Second, keep in mind there are heuristics or "comparable" newsletters, which have a price already. If you price much higher or lower, expect to get more questions asked by subscribers.
Third, what we have notice is that if you offer more "media types" of content – for e.g. text, images, podcasts, videos, you can charge higher.
8.       Are there other SubStack fees? Are there fees for storage (images) or (podcasts)?
Besides the fees mentioned (10% of your newsletter's price + Stripe payment processing fees), there are no other fees for SubStack currently (August 2020).
9.       How does SubStack pricing model scale?
Publishers:
SubStack pricing scales very linearly. As the number of subscribers grows your payment to SubStack is 10% of your total newsletter revenue. We are not currently aware of any discounts for large subscribing newsletters.
Subscribers:
SubStack pricing for newsletters is priced by newsletter. The other option is the Everything bundle mentioned above.
10.   What are the other costs that I must account for in my paid SubStack newsletter?
There are no other costs and fees for publishing your SubStack newsletter. Of course, you will have to pay for your internet access, or computer, but we assume you have paid for those already.